RULES
AND
SERVICES
RULES
AND
SERVICES

SALES RULES

BRING YOUR GAMES DIRECTLY TO THE FANS!
SPIEL visitors are very interested in buying new games directly on site. That's why we allow you as exhibitor to sell games directly on your own booth. In addition, various retailers are also present at the fair with their own sales booths.
Especially if you are a small publisher without a large distribution network or with only a small quantity of your games produced, you will benefit from the opportunity to sell your titles directly to gamers at SPIEL. All products you want to sell must meet German sales standards. Products that are not allowed to be sold in Germany are of course not allowed to be offered at SPIEL.
You can find additional information on German sales regulations under this link: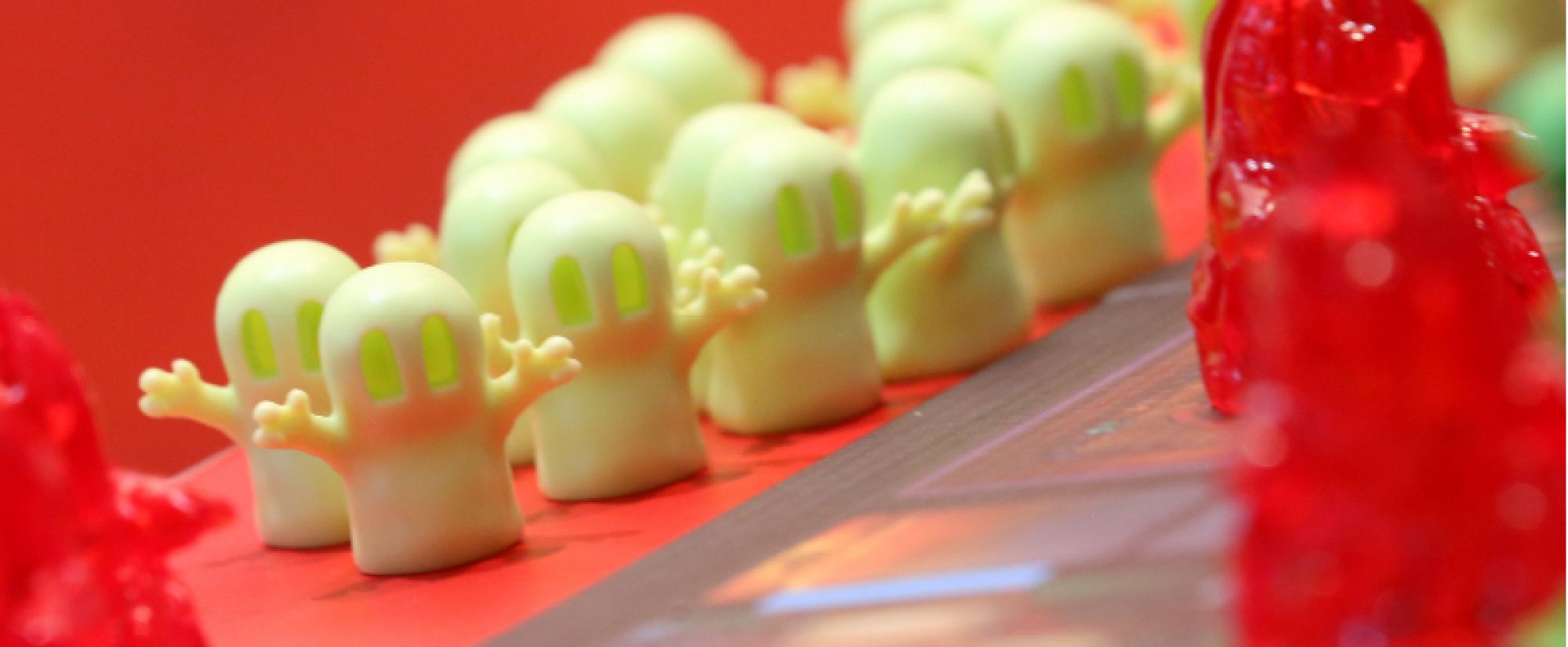 FAIR SERVICES


WHAT WE CANNOT OFFER YOU, YOU CAN GET FROM MESSE ESSEN!
You need electricity, Wifi, carpet, furniture or other services at your booth? Then Messe Essen can help.
You can book various services on site directly from the fair company.
A list with all services and contact persons can be found on this page:

FAQ


FIND THE ANSWERS TO YOUR QUESTIONS.
Organising a show is a lot to keep in mind, especially for you exhibitors who might come to SPIEL for the first time. To help you we gathered the most frequently asked questions here.
How do I become an exhibitor at SPIEL?
Simply send us an e-mail with complete contact details (name, company, postal address, telephone number, e-mail and homepage) to This email address is being protected from spambots. You need JavaScript enabled to view it..

 

Then we will send you a link to the application documents including conditions of participation and application form.
How much does a booth cost at SPIEL?
Larger booths are charged per sqm, small booths of 10 sqm are available at a reduced fixed price.
You will find the prices on the registration form, which we will be happy to send you after we have received your contact details.
What does the booking of a booth include?
The space, booth partition walls and exhibitor tickets (depending on the booth size) are included in the booking.
Can I book furniture, carpet, electricity and the like with you?
When will I receive my booth number/stand location?
After the hall planning has been completed, you will receive your exhibitor documents with hall plan, booth number and all important information about your participation in the show. This will probably be in June.
Can I sell my products at my booth?
Selling is explicitly allowed at SPIEL.

 

Only at the prototype gallery selling is not allowed.
How can I have my goods delivered?
Your logistics team can deliver the goods directly to your booth. For this it needs the following information:

the address of Messe Essen (Norbertstraße 2, 45131 Essen)
the name of the event (SPIEL)
your booth number

Someone must be at the booth to accept the goods.

 

To send goods before the set-up, you can contact DB Schenker (https://www.messe-essen-service.de/exhibitor-service/spiel/logistics/), Messe Essen's logistics partner, who can temporarily store goods for you.
Can I choose a booth location?
You are welcome to indicate your booth's location preferences on the registration form under "Remarks". We will do our best to take these into account when planning the hall.
However, we cannot guarantee that we will be able to realize these wishes.
What is the difference between a publisher's booth and a retailer's booth?
A publisher's booth is for exhibitors who only want to offer and sell their own products.
A retailer's booth is for vendors who may offer their own products, but also third-party products.
What happens if I have to cancel my participation at SPIEL?
A cancellation is possible, but unfortunately not free of charge.
Up to 2 months before SPIEL (Aug. 5 23) a cancellation fee of 40% of the total amount will be charged.
Less than 2 months before SPIEL (from Aug. 6 23) a cancellation fee of 100% of the total amount will be charged.
Does the SPIEL have cooperations with surrounding hotels?
I have registered but have not received my invoice yet.
Invoices will be sent in May or June this year.
If you have not received your invoice by the end of June, please contact your contact person.
How do I get my exhibitor tickets?
You will be able to create your own tickets via our ticket store from August onwards.

 

You will find further information in the exhibitor documents.
What is the Prototype Gallery?
At the Prototype Gallery, game designers have the opportunity to show their self-developed games in the prototype stage to the public and have them tested on all 4 days of the fair.

 

The Prototype Gallery is not for self-publishers, companies or Kickstarter projects, but exclusively for designers looking for a publisher.

 

It is not allowed to sell or take pre-orders there.
What is Artist Alley?
The Artist Alley is intended for illustrators, artists and comic artists who are allowed to make drawings for visitors and sell them there.

 

Space on Artist Alley can be booked per day. Artists can decide which days they would like to be present at the show.

 
How do I get Invitation Letters to apply for my visa?
Please send us an email with your request, first name, last name, gender, date of birth, place of birth, passport number, passport issue date and company address to This email address is being protected from spambots. You need JavaScript enabled to view it..

 
What do I have to consider if I want to sell my goods at SPIEL?